There are a couple of hot potato topics when it comes to Tenerife. One is the weather, especially north V south. Another can be Playa de las Amèricas.
A couple of months ago on our facebook page I posted an image of a particularly tasty bowl of gazpacho we'd enjoyed in a hotel in Playa de las Amèricas. Nothing controversial in that you might think – wrong. Suggest Playa de las Amèricas is anything other than a Sodom and Gomorrah hellhole and you run the risk of provoking outrage.
It's the bad boy of Tenerife, everyone knows that. The naffest part of the island. Except those labels are not wholly accurate.
Like all the other resorts which make up the main southern resort area which stretches from Los Cristianos all the way to La Caleta, there are parts which are modern and upmarket and there are pockets which are stuck in a mediocre 1980s resort bubble. The Veronica's area of the resort attracts most of the criticism, detracting from the reality of the larger southern side where it blends with Los Cristianos.
When we talk of an area of Las Amèricas being a modern and quite swanky looking resort, this is the area we are generally referring to. I know there are some who'll scoff at such a suggestion, so I'll let a few photos we've taken in Las Amèricas illustrate my rationale.
Shopping

A quick gander at what shops you find in a location tends to reveal a lot. Loads of messy locals (units) selling cheap pap speaks volumes. But that's not what you'll find at the C.C. Safari Centre. Instead of listing a few designer names I'll only mention one – Guess. That one name should tell you all you need to know.
Golf

Las Amèricas has a rather lovely golf course which hosts international golf tournaments.
Art

One of my favourite parts of the coast in the main southern resort area is the stretch which runs west and then north from Playa del Camisón. It is not what you'd expect from a resort – there are surfers rather than sunbeds, a nice little sea pool, and a wooden boardwalk leading past industrial-sized contemporary sculptures.
Beaches

Talking of beaches, part of Playa las Vistas, some people's favourite Tenerife beach, is in Las Amèricas. We prefer the smaller Playa del Camisón backed by the 5 star Hotel Sir Anthony. It's one of our favourite beaches in the south of Tenerife.
Quirks

This colourful dancing fountain at the Safari Centre attracts plenty of admirers on a nightly basis.
Hotels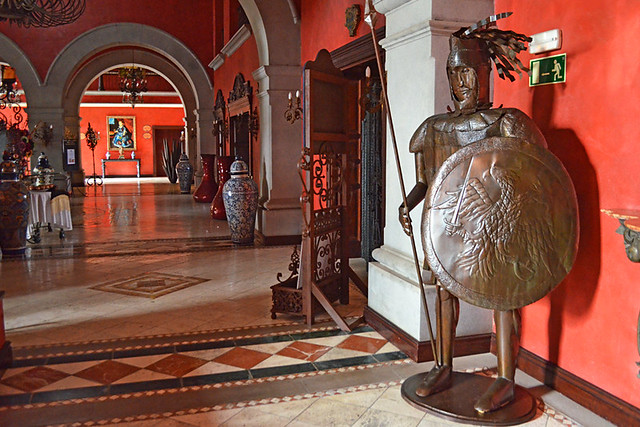 Just like neighbours Costa Adeje and Los Cristianos, hotels in Las Amèricas cater for varying tastes and budgets. Whenever we are asked to list the top ten Tenerife hotels, the Villa Cortes tends to get included. One room has photos of the famous people who've stayed at the hotel (I don't remember seeing a TOWIE among them, but Jennifer Lopez is in there). What really impresses us are the lift doors with Frida Kahlo images and the Fernando Botero prints on the walls. Not your usual holiday hotel artwork, not even for other 5 stars.
Nightlife

Ah, but the nightlife is mad, bad and dangerous to know. For a start, the bars at infamous Veronica's (on the border with Costa Adeje incidentally) are aimed at a younger market who mostly seem to enjoy them. But the strip of live music bars at Parque la Paz are fun holiday bars more suited to a clientele who have left their clubbing days behind. One more point, when Hard Rock opened a café in Tenerife, where did it choose to site it? No prizes for the answer.
Food

I wouldn't go to Las Amèricas to eat good traditional Canarian food just as I wouldn't go to Las Amèricas hoping for anything to do with traditional Tenerife. Then again, I wouldn't go to any purpose-built resort for those. But whenever we're in the southern resort area I'd rather be around the Safari Centre end of Las Amèricas where there's a good choice of attractive restaurants serving decent food; the Venture group being partly responsible for raising the culinary bar in the area. Plus, the head chefs at Hotel Villa Cortes are among the most talented on the island, regularly doing well in top Spanish gastronomy competitions.
Theatre

The over the top columns of the Pirámide de Arona add a touch of glitzy Las Vegas to the resort whilst inside, the Carmen Mota flamenco show is slick, exciting and professional. The look is kitsch in the extreme, but in a fun and attractive way.
Beach bars

And finally, to come full circle, whilst most of the places I've mentioned are on the opposite side of the resort from Veronica's, the stylish Papagayo Beach Club is right beside it. I'm not keen on the area on the inland side of the commercial centre… so I simply stay away from it. But on a warm, sunny afternoon do I consider this part to be naff?
The answer is I can easily think of far worse resort areas on Tenerife.